The UN Resident Coordinator Office
The UN Country Team, representing the UN development system in Libya, is comprised of 17 resident and non-resident UN Agencies, Funds and Programmes and UNSMIL working to support implementation of the Sustainable Development Goals for all people in Libya.
The purpose of the UN Resident Coordinator Office (RCO) is to maximize, through strategic coordination, the work of the UNCT to provide a collective, coherent, and integrated response to national priorities and needs, within the framework of the Sustainable Development Goals (SDGs) and other international commitments.
The UN in Libya has in place a United Nations Sustainable Development Cooperation Framework for 2023-25 that guides its collective work in support of Libya's implementation of the 2030 Agenda and the SDGs. To support implementation of the 2030 Agenda and the SDGs, the UN aims to advance political stability and reconciliation, including through unification of more effective, democratic, inclusive, and representative national institutions. Work is underway to support the unification and strengthening of security, justice, rule of law, and human rights institutions to enable them to better promote and protect human rights based on the principles of inclusivity, non-discrimination, and equality. The UN in Libya is also focused on working with counterparts on sustainable economic development, social and human capital and
The Office of the UN Resident Coordinator in Libya performs the following key functions:
Strategic planning
Development economics
Partnerships and development finance
Data and results management and reporting
Communications and advocacy
The UN Resident Coordinator in Libya
Ms. Georgette Gagnon of Canada was appointed as Deputy Special Representative of the Secretary-General, Resident and Humanitarian Coordinator for Libya on 21 December 2020. Ms. Gagnon is based in Tripoli.
Ms. Gagnon brings to the position over twenty-five years of experience leading and implementing strategic initiatives on human rights, humanitarian action and development and coordinating multi-disciplinary teams in conflict and post-conflict countries. She previously served as Director of Field Operations and Technical Cooperation in the Office of the United Nations High Commissioner for Human Rights (OHCHR), where she led the substantive and operational work of the Office's 94 field presences around the world.
From 2010 to 2015, Ms. Gagnon was the Director of Human Rights for the United Nations Assistance Mission in Afghanistan (UNAMA) based in Kabul. Ms. Gagnon has also served as a director and senior adviser on protection of civilians, human rights and the rule of law in various duty stations with the United Nations, the Organization for Security and Cooperation in Europe, national governments and non-governmental organizations.
Ms. Gagnon holds an LLB from York University in Toronto, Canada, and an LLM in International Human Rights Law from the University of Essex in the United Kingdom.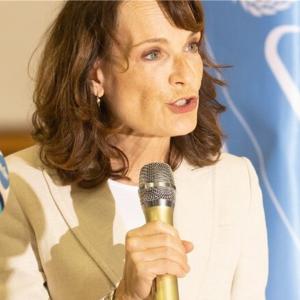 Georgette Gagnon
Deputy Special Representative of the Secretary-​General / Humanitarian Coordinator / Resident Coordinator